Ideal for applications that require temperatures ranging from -10°C to +60°C with excellent stability.
Product Selection
| Model | Capacity | Temperature Range | Door Style | Electrical |
| --- | --- | --- | --- | --- |
| PR205745R | 6.1 cu. ft., 173L | -10° to +60°C | Solid | 115V 60Hz 9.5A NEMA 5-15 plug |
| PR505755R | 20.0 cu. ft., 566L | -10° to +50°C | Solid | 120V 60Hz 6.2A Nema 5-15P |
| PR505750R | 20.0 cu. ft., 566L | -10° to +50°C | Solid | 230V 50/60Hz 3.1A Nema 6-15P |
| 3975 | 30.0 cu. ft., 849.5L | 5° to 70°C | Solid | 120V 60Hz 17.9A |
| 3977 | 30.0 cu. ft., 849.5L | 5° to 70°C | Glass | 120V 60Hz 17.9A |
Description
Conduct applications that require temperatures ranging from -10° to +60°C with Thermo Scientific Precision Low Temperature BOD Refrigerated Incubators, available in 2 sizes and ideal for biochemical oxygen demand testing, bacterial research, seed germination, fish/insect breeding and much more.
Features an efficient, dependable design with microprocessor controls and forced air circulation.
Temperature Uniformity
Microprocessor control with easy-to-read display shows actual temperature within 0.1°C.
Push-button controls for temperature set point selection.
Forced-air circulation delivers excellent temperature stability.
CFC-free, foamed polyurethane insulation prevents heat loss.
RTD temperature probe and protected set point mode prevent accidental temperature change.
Door key lock protects samples from unauthorized access.
Efficient Design
Easy-to-clean, corrosion-resistant construction.
Compressor relay conserves energy.
173L (6.1 cu. ft.) Unit
Economical undercounter design.
High/low safety thermostat backups.
Three cooling modes simplify operation: high precision with cooling; high precision without cooling; and frost-free with variable cooling.
Four adjustable leveling feet for stable setup.
2A outlet easily supports apparatus inside the unit.
566L (20 cu. ft.) Unit
Ideal for BOD applications and temperature settings at or below ambient.
Holds over 300 BOD bottles (300mL).
Temperature set point selection with high- and low-temperature protection and simple calibration.
Available with dual lamp fluorescent lighting for plant growth studies and day/night cycles, programmable lighting conditions.
Safety relay and alarm LED alert to over/undertemperature conditions.
Access port for independent sensors/connection of equipment inside unit.
Cooling switch provides high temperature accuracy and saves energy at temperatures above ambient.
RS-232 and recorder jacks for datalogging.
Plant growth models available: PR505755L and PR505750L–with Dual-lamp fluorescent lighting and programmable temperature and light cycles.
849.5L (30.0 cu. ft.) Unit
Large volume for applications above ambient.
Temperature range: 5° to 70°C.
Hydraulic thermostat with analog temperature control.
Choice of solid door or glass door for viewing of samples; no door lock.
Easy-to-clean, corrosion- and chemical-resistant aluminum chamber.
Requires hardwire installation by qualified electrician.
Warranty
Document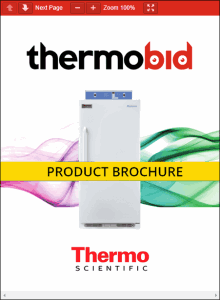 Sale!

Incubators, Microbiological Incubators, Thermo Scientific Lab Instruments & Equipment, Thermo Scientific Precision Low Temperature BOD Refrigerated Incubators

$

11,506.00
QuickSpecs: Incubators > Microbiological ==> Thermo Scientific Precision low temperature bod refrigerated incubator, 6 shelves, solid door, single, 850 litre, 120 volts, 60 hertz, 17.9 amp, 2150 watt